After the war, Major Goebel returned to Wisconsin, where he earned a degree in physics from the University of Wisconsin-Madison, and served as Commander of a squadron in the Wisconsin Air National Guard.
After assignments at the Pentagon and Sandia AFB in Albuquerque, NM the family moved to Southern California, where the now Lt. Col. Goebel was involved with the space program.  Colonel Goebel was a staff development engineer at the Air Force Systems Command (AFSC) Space Systems Division in Los Angeles. As part of the Gemini space program, Goebel's team worked to modify the Titan II rocket as the launch vehicle for the manned space capsule.
In 1991, Bob Goebel published his autobiographical work Mustang Ace: Memoirs of a P-51 Fighter Pilot.  What began as a simple effort to create a written record of his wartime experiences for family members turned into something quite different.  Unlike many such stories "as told to" professional writers, Goebel wrote the manuscript himself, and proved that he was up to the task.
Mustang Ace was well-received, and Goebel would travel to air shows and events like the Reno Air Races to autograph and sell his books. 
In addition to being an accomplished writer, Goebel was a great story-teller and an excellent public speaker.  He began receiving invitations to warbird gatherings and fighter ace forums to give talks and appear on panels.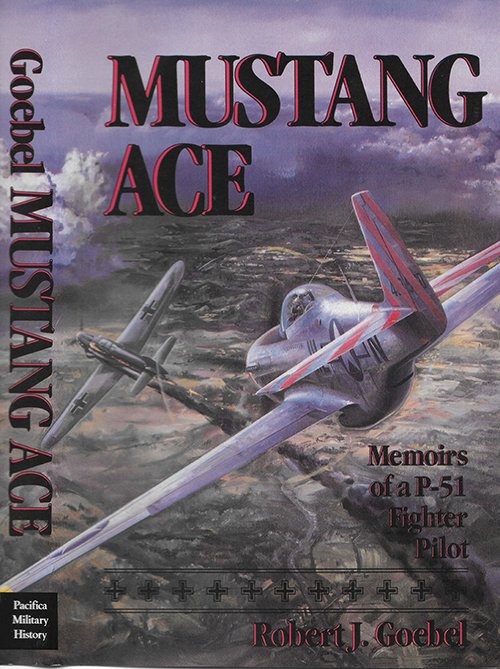 The Re-Birth of the tribute "FLYING DUTCHMAN"
The fate of Bob Goebel's original mount, the P-51D "Flying Dutchman" is unknown. It probably wound up buried on an island somewhere by bulldozers with many other such surplus aircraft after the war.
When the current owner of a vintage fighter has it painted in the original markings of a WWII ace, it is known as a "tribute" aircraft.
Dr. Norman Lewis, a physician from Louisville, KY was an owner/pilot of a P-51 Mustang. He wanted to paint his Mustang in the markings of a WWII aircraft but had not yet decided on color scheme. Dr. Lewis was at the airshow at Oshkosh at the time, and a friend suggested the possibility of a paint scheme in the markings of the Tuskegee airmen.
In a bookstore at the Oshkosh event, Dr. Lewis found a copy of the book Mustang Ace, and took it back to his hotel room. He stayed up all night reading it. Now his mind was made up…he wanted to paint his Mustang in the markings of Bob Goebel's Flying Dutchman. He contacted Goebel to get his consent, and was provided with the phone number of Goebel's crew chief, who was still alive and could provide him with exact specifications for the color scheme.
When the aircraft had been painted, Dr. Lewis flew the "Flying Dutchman" to the airport in Torrance, California where Goebel lived, and it was an emotional meeting for both men. Before landing, Dr. Lewis did a low-level high-speed pass and then pitched up into a sharp turn before setting it down on the runway. Officials were not amused when every noise abatement level monitor in the area was triggered. California is a long way from Kentucky in more ways than one.
The tribute Flying Dutchman was subsequently owned by two other individuals, Brian Adams of California, and Stephen Craig of Kansas. It was frequently present at the same airshows and events where Bob Goebel was being honored or giving a talk. Goebel continued making appearances until his passing in February 2011 at his home in Torrance, CA, one week before his 87th birthday.
What became of the tribute Flying Dutchman? Sadly, it no longer exists. It was sold to a European and repainted in 2015. Bob Goebel would have laughed at the fact that the buyer was German!
It was a beautiful aircraft, and will live on in the hearts and memories of those who had the pleasure of seeing it.