Bob Goebel had many friends who were former members of the Luftwaffe.  The following excerpt is from the Foreward to his book Mustang Ace: Memoirs of a P-51 Fighter Pilot:
"I do not recollect, with maudlin breast-beating, the killing of my fellow pilots in other uniforms.  Like the rest of my generation, in combat I did what I had to do, the best way I knew how. There was no hating, no anguish, no sense of guilt.  Only an attitude of getting the job done.
Since those days I have met many ex-Luftwaffe pilots, men who were worthy adversaries.  I listened as they dispassionately described the downing of an American bomber or fighter.  I have concluded that their attitude, then and now, was very much like my own."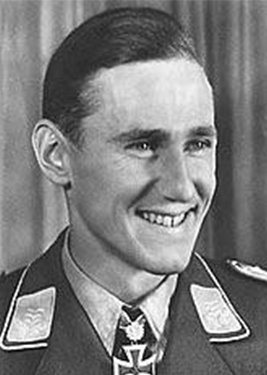 was the third highest scoring fighter pilot in history with 275 victories, mostly against Soviet aircraft. Only Eric Hartmann (352) and Gerhard Barkhorn (301) scored more victories. Rall flew over 600 missions and was shot down eight times.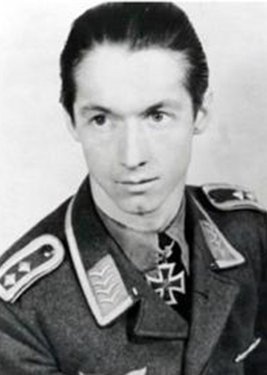 flew approximately 500 missions and was credited with 206 confirmed victories in the Bf-109 and the Me-262.
Robert Goebel's victories included the downing of three Me/Bf 109's on 18 August 1944.  In one of those, the German pilot ejected, but his parachute failed to deploy.  The circumstances haunted Goebel to the point that in 2005 he undertook an effort to identify the fallen foe, who turned out to be a twenty-three-year-old Lieutenant named Herbert Franke.  Goebel did not stop his efforts after identifying the downed pilot, but continued until he had located a surviving relative, to whom he wrote a touching letter apologizing for "the pain he had caused the family."  This incredible story is recounted by the ace in "A Friend Never Met."
Goebel's research led to his meeting up with Ernst Pausinger, a friend and staffel (squadron) mate of the deceased Herbert Franke.  The encounter resulted in an enduring friendship between Goebel and Pausinger.  In the photograph, Goebel is holding a beer stein from a brewery in Bavaria owned by the Pausinger family for over 100 years.